Director: Robert Eggers
Starring: Anya Taylor-Joy, Ralph Ineson, Kate Dickie and Harvey Scrimshaw
Synopsis: New England, 1630. Upon threat of banishment by the church, an English farmer leaves his colonial plantation and relocates his family to a remote plot of land on the edge of an ominous forest—within which lurks an unknown evil. Strange and unsettling things begin to happen —animals turn malevolent, crops fail, one child disappears, and another seems to become possessed by an evil spirit. With suspicion and paranoia mounting, daughter Thomasin is accused of witchcraft.
When it got announced that Second Sight Films were releasing a Limited Edition 4K UHD/Blu-ray of The Witch, it is fair to say that I was ecstatic. I have enjoyed so many of their previous releases and adore their artwork and the special features they manage to package with the disk. It also helps that Robert Eggers' directorial feature debut, 'The Witch', is one of the best films which has come out in the past decade. This Limited Edition release does not disappoint.
I didn't think my love for The Witch could grow past where it was, but this version quickly changed that opinion. Once again, the artwork and presentation are flawless and make this a must-purchase collector's item for fans of the film. The 4K UHD with new Dolby Vision HDR grade brings the movie to a completely different level and shines a light on the magnificent cinematography from Jarin Blaschke, who is now a frequent collaborator of Robert Eggers, having worked on all three of his feature films so far. A truly glorious film taken to even greater heights.
The release also has many special features, which have been listed below with a pre-order link for the disk. Personally, the highlight of the special features is the interview with Robert Eggers, which shines a light on the inspiration for the film and showed a great insight into the struggles he went through just to get the film into production. Cast interviews also give a fantastic insight into the casting process and highlight how they took these characters from the script to the screen.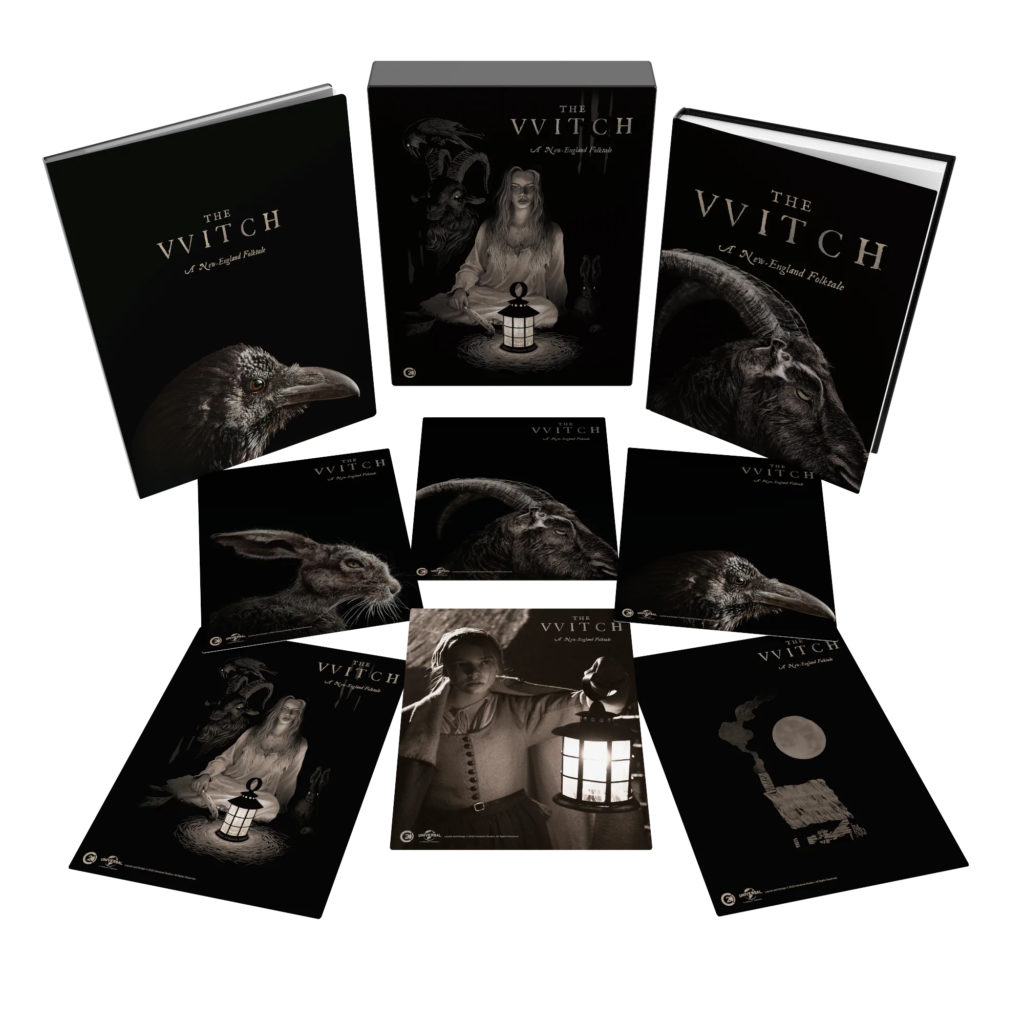 Special Features
Features 4K UHD and Blu-ray with bonus features on both formats
4K UHD presented with new Dolby Vision HDR grade
Archive audio commentary by Director Robert Eggers
New audio commentary by film writer and broadcaster Anna Bogutskaya
A Puritan Nightmare: a new interview with Robert Eggers
Embracing Darkness: a new interview with Anya Taylor-Joy
Love Thy Father: a new interview with Ralph Ineson
A Pious Wife: a new interview with Actor Kate Dickie
Caleb's Lament: a new interview with Actor Harvey Scrimshaw
A Primal Folktale: features interviews with Robert Eggers and cast
BFI London Film Festival Q&A with Robert Eggers, Anya Taylor-Joy, Ralph Ineson and Producer Jay Van Hoy
Brothers: a short film by Robert Eggers
Optional English subtitles for the hearing impaired
Limited Edition Contents
Rigid slipcase with new artwork by Peter Diamond
150-page hardback book with new essays by Emerson W Baker, Daniel Bird, Anton Bitel, Charles Bramesco, Lillian Crawford, Shelagh Rowan-Legg and Anya Stanley plus stills, costume and production design gallery
Six collectors' art cards
The Witch Limited Edition 4K UHD & Blu-ray: Pre-Order Available July 25th