Spoilers for all three Guardians of the Galaxy films
In 2014, James Gunn introduced us to the loveable bunch of a-holes we now know as the Guardians of the Galaxy and since then they have become an integral part of the MCU, capturing the hearts of audiences across the world. Gunn's trilogy has always felt like a distinct and unique voice compared to its MCU counterparts, whether it's the colourful visuals, the humorous dialogue or the frenetic action sequences. 
However, one element that has become synonymous with the Guardians series is its soundtracks. From day one, Gunn has been able to showcase an array of varying musical genres through the Guardians of the Galaxy films. His song choices always feel purposeful and needed, always finding ways to squeeze in tracks that are unknown or even giving well-known classics a new lease of life. 
So, as Vol. 3 marks the end of this story, I thought it would be the perfect opportunity to go through, what I think are, the 10 best needle drops from the entire trilogy. To clarify, this list is not going off of personal preference for the songs themselves. Some of my favourite tracks in the whole series, like I'm Not In Love and Escape (The Pina Colada Song), didn't make the cut for this very reason. The list primarily focuses on the impact and effectiveness a song has during the scene it appears in.
Some honourable mentions include: Hooked on a Feeling and Cherry Bomb from Vol. 1, Lake Shore Drive from Vol. 2, Crazy On You and We Care A Lot from Vol. 3 and The Rubberband Man from Infinity War (I know it's not from the main trilogy but it's a great song to reintroduce the Guardians with for their first appearance outside of their own films).
10 – Fooled Around and Fell in Love by Elvin Bishop (Vol.1)
This song comes into play during, what I personally think, is a rather overlooked moment from Vol. 1. As this is the first proper glance we get at Gamora and Peter's relationship starting to develop, the song does a really good job of complimenting this personal interaction. It's a nice scene that shows the growing connection between these characters and sees both of them opening up to each for the first time. It also doesn't outstay its welcome either and was also the scene that introduced us the great legend of Footloose.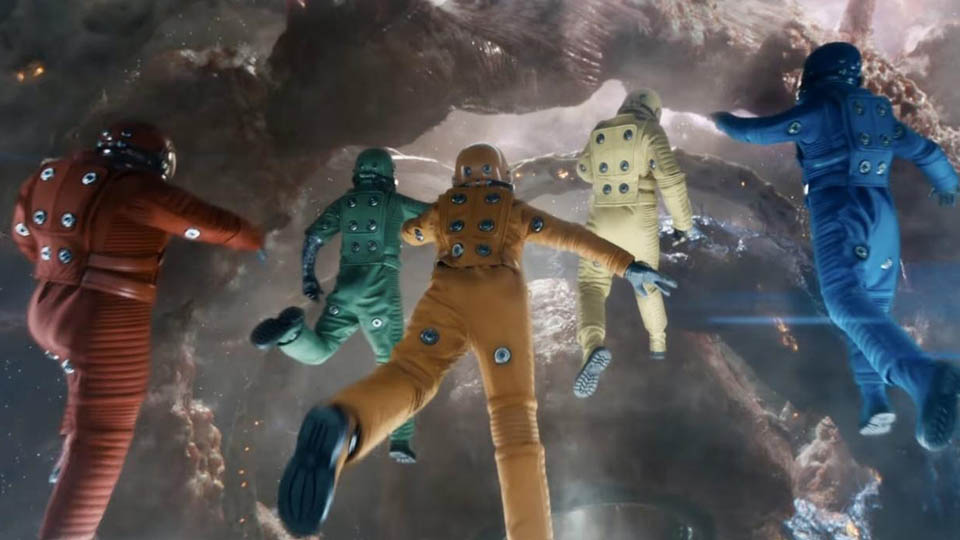 9 – In The Meantime by Spacehog (Vol. 3)
When it comes to picking songs that are used during the in-between moments, the parts where the characters travel from point A to point B, you ideally need to pick something that works for that point in the story yet isn't so well recognised that it distracts from the film. This is something most filmmakers wouldn't give a second thought to, yet the Guardians trilogy excels at. All three volumes have some great examples of this, Vol. 2 with Lake Shore Drive and Vol. 1 with Moonage Daydream, but personally I think the best use is in Vol. 3 with In The Meantime by Spacehog. Whenever I hear this song from now on, I am always going to have the visual of the team jumping out into space in their multicoloured suits stuck in my head.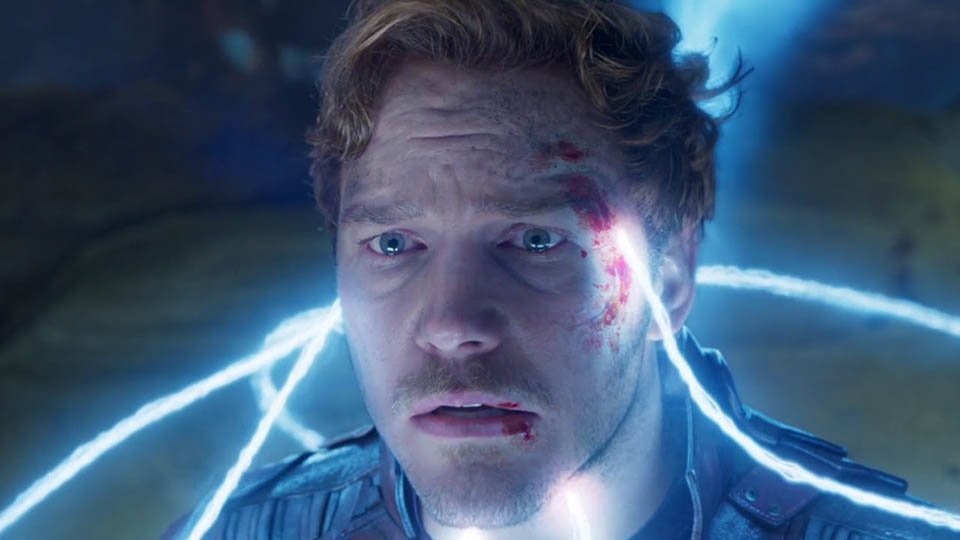 8 – The Chain by Fleetwood Mac (Vol. 2)
Appearing during the climatic finale of Vol. 2, The Chain solidifies the significance of Quill's choice during this specific moment. Outside of the film, The Chain is commonly featured during moments of suspense or increased intensity which is why it works so incredibly well when paired with this pivotal scene. Plus it's The Chain by Fleetwood Mac…the song alone will elevate anything it's used in.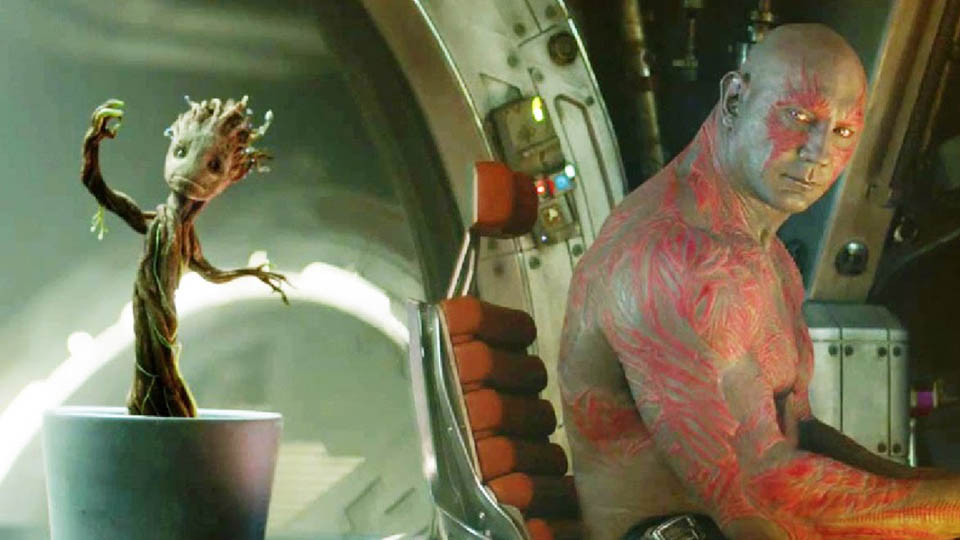 7 – Ain't No Mountain High Enough by Marvin Gaye & Tammi Terrell (Vol. 1)
Vol. 1's soundtrack is one of the core elements that made the film work as well as it does. A variety of songs that all played their part in creating the style and aesthetic that would be the Guardians of the Galaxy trilogy. However, James Gunn went one step further by wrapping up Vol. 1 in a lovely bow with this classic motown tune. It's a fantastic way to signal the end of that story whilst also signalling the start of this team's adventures together.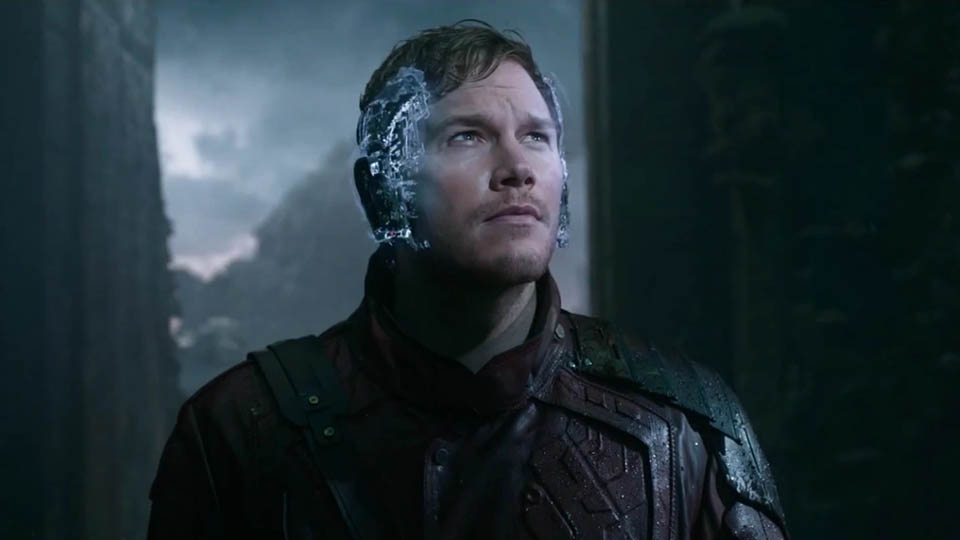 6 – Come and Get Your Love by Redbone (Vol. 1)
How could I not feature this one on the list? It's the song these films are best known for and it most certainly opens Vol. 1 in style. Having Peter Quill nonchalantly dancing around a baron alien planet and singing along to this song single handedly epitomises his character in a concise nutshell. So much so that this has arguably become one of the most memorable scenes of the trilogy…and it's only the opening credits.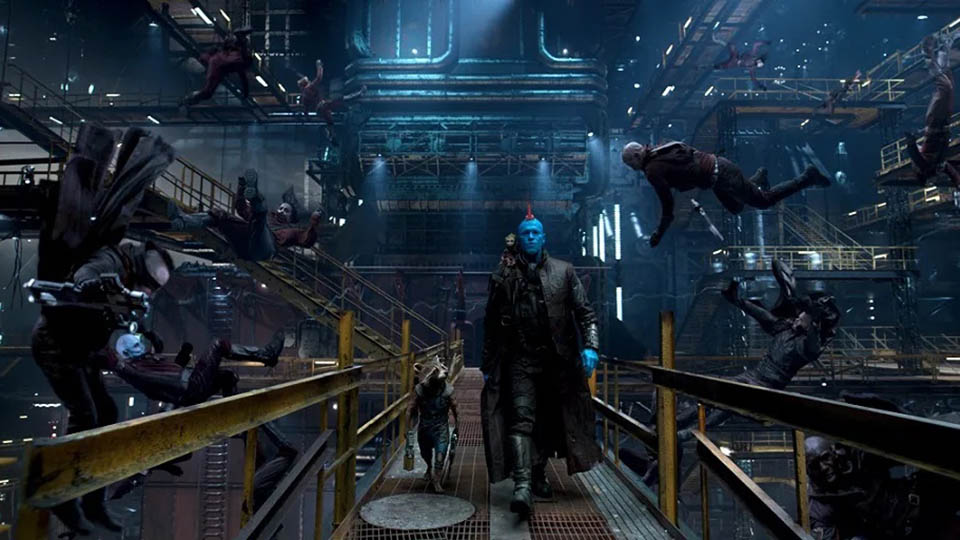 5 – Come A Little Bit Closer by Jay & The Americans (Vol. 2)
Come A Little Bit Closer is one of those great examples of James Gunn pulling a song from relative obscurity and pairing it with a sequence that would simply not be the same without it. The song is featured when Yondu, Rocket and Groot break out of their cell and proceed to kill every last Ravager on the ship. The use of slow motion, overhead camera angles and of course this phenomenal song all work hand in hand to create what is a really cool and satisfying scene.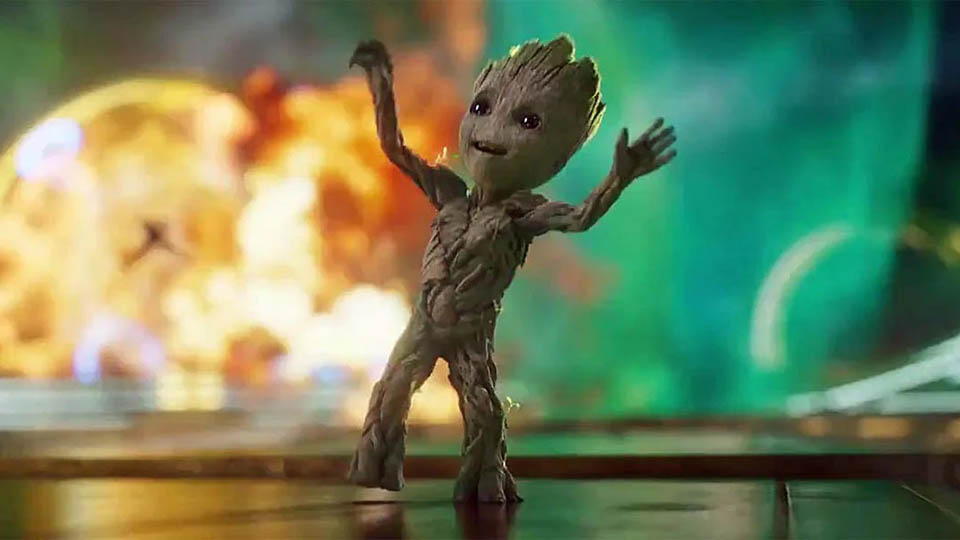 4 –  Mr. Blue Sky by Electric Light Orchestra (Vol. 2)
According to James Gunn, Mr. Blue Sky was the hardest he ever had to fight when trying to obtain the rights for a song. Thankfully, that battle paid off as the end result is one of the most fun openings to any Marvel film we've had to date. ELO's upbeat classic sets the tone perfectly for Vol. 2, but having it be accompanied by Baby Groot dancing around while the rest of the team are busy fighting a monster in the background, encapsulates everything that makes the Guardians of the Galaxy films so enjoyable in one simple scene.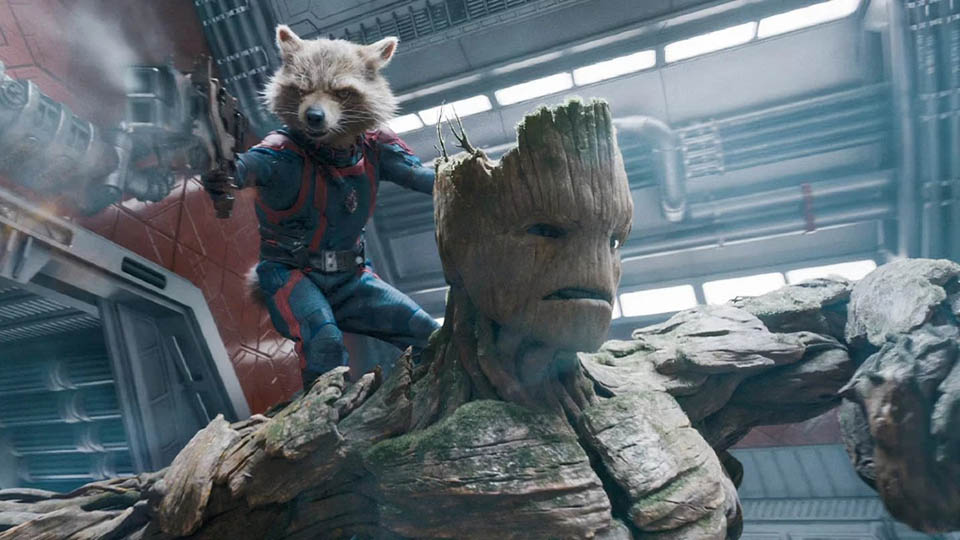 3 – No Sleep Till Brooklyn by The Beastie Boys (Vol. 3) 
I think I can speak for everyone when I say, as soon as this track started playing we all knew something was about to go down…and my god it certainly did. What unfolds during this scene is arguably one of the best action sequences in any MCU film. A simulated one take brawl in a corridor that mixes great choreography, CGI and practical effects resulting in a true feast for the eyes. Having this iconic Beastie Boys track playing over the top of it genuinely just feels like the icing on the cake. The scene was already great to begin with, the addition of this song turns it into a masterpiece.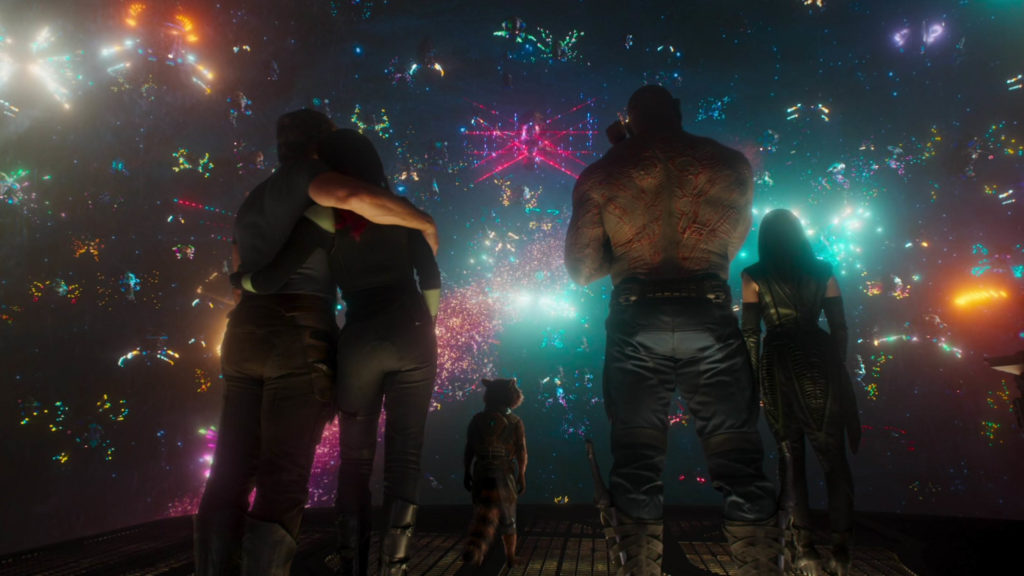 2 – Father and Son by Yusuf/Cat Stevens (Vol. 2)
The ending of Vol. 2 was already proving to be a tearjerker when Yondu sacrifices himself to keep Peter alive, but having it followed up with this very touching use of Cat Stevens' Father and Son cements, not just how effective the use of the song is, but also how much the character of Yondu meant to the Guardians. Beautifully complimented by the vibrant visuals of Ravagers setting off a firework display in Yondu's honour, this is one of those examples of how powerful a song's placement can be in a film when used at the right point.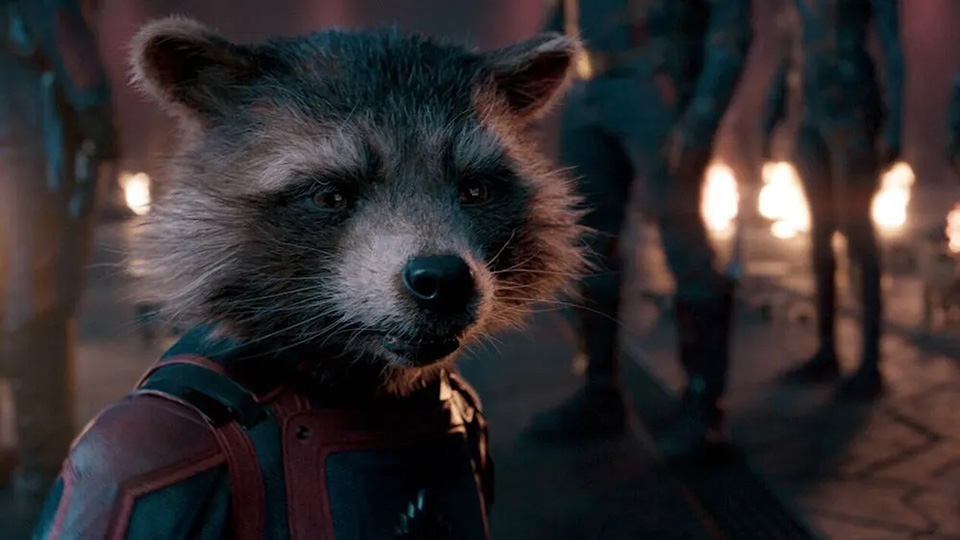 1 – Dog Days Are Over by Florence and The Machine (Vol. 3)Speaking of which, Vol. 3 somehow manages to outdo the ending of Vol. 2 when it comes to choosing the right song for the right scene. Dog Days Are Over was already a great song anyway, but the ending of Vol. 3 manages to turn it into both a joyous and bittersweet anthem for the team. The final product ends up becoming what is, in my opinion, one of the most emotionally powerful endings to any Marvel film in quite some time.