Once seen as a risk for Marvel Studios to bring to the MCU, based on how obscure and unknown the characters were, this bunch of A-holes has had audiences around the world hooked on a feeling ever since they were introduced by James Gunn in 2014. They've fooled around and fell in love, and come a little bit closer before reaching the end of their respective trilogy in Guardians of the Galaxy Vol. 3.
Still reeling from the loss of Gamora (Zoe Saldana), Peter Quill (Chris Pratt) must rally his team to defend the universe and protect one of their own. If the mission is not completely successful, it could possibly lead to the end of the Guardians as we know them.
What James Gunn delivers with Guardians of the Galaxy Vol. 3 is an epic and heartfelt conclusion to the story of a loveable bunch of misfits he has been on a journey with since 2014. It's as much a goodbye to the MCU from him as it is some of the characters seeing as he is now overseeing the foreseeable future of DC films, so it really does have even more emotional weight added to proceedings. With that in mind, the end result is one of the most emotionally traumatising films the MCU has ever seen, Gunn not holding back as he manages to give each member of this dysfunctional family a chance to let it all out.
There's no denying that the beating heart of this film is Rocket though, his traumatic backstory being dealt with in flashbacks as the family he found in the first Guardians film rush to help him out. Gunn integrates the flashbacks into the narrative so naturally that they never feel as if they are distracting from what the rest of the Guardians are up to in the present day, Rocket being mistreated and time spent with other unfortunate test subjects enough to bring a tear to the eye. Add to that a superb vocal performance from Bradley Cooper and you get one of the more mature and resounding character arcs in the entire MCU.
It's really great to see a product of the MCU feel like the finished article when it comes to special effects work, the results are rather spectacular actually here. Rocket and Groot have always been visually interesting characters and they both continue to feel almost real thanks to the special effects, the former having numerous close-ups along with his friends such as Lylla making it imperative that the effects look stellar. The mature feel of the film doesn't mean Gunn stops delivering fun action sequences set to an awesome soundtrack, a trademark now for this particular set of characters, and there is one in particular that, when it happened, I knew this film was special. A long-take fight sequence involving the whole crew set to Beastie Boys' No Sleep till Brooklyn is the icing on the cake here, chaotic yet executed perfectly to showcase the team going out with a bang.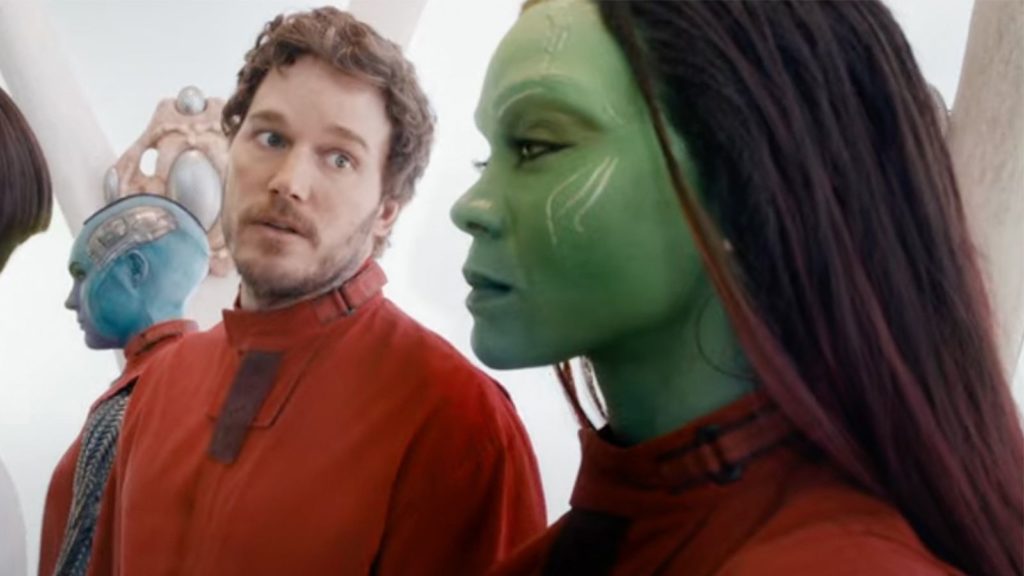 For a film that juggles so many major characters and with having to close out a trilogy, it's a testament to Gunn's writing that none of them feel as if they're taking a back seat. The cast are all on top form here as well; Chris Pratt adding further depth to Peter Quill, who isn't just the jester anymore, Zoe Saldaña playing an entirely different Gamora to the one we got used with such an intensity, and Karen Gillan almost scene-stealing again as Nebula. Dave Bautista has made it clear he doesn't want to play Drax any longer, and it's great to see him redeem the character a little here after being a bit of a weak link in the second film.
Chukwudi Iwuji makes one hell of an impression as The High Evolutionary, a truly terrifying villain that Iwuji brings a lot of humanity to. Easily one of the better villains the MCU has had, Iwuji will genuinely make your skin crawl several times throughout with his actions. If there was one role that felt a tad underwhelming, due to the hype surrounding the character's first appearance, it would have to be Will Poulter as Adam Warlock. Nothing against Poulter because he is funny and imposing in the role, even if I can't unsee him as Kenny from We're the Millers, it just feels as if this character isn't done total justice within the story.
Guardians of the Galaxy Vol. 3 is a top-tier MCU entry that had me laughing, cheering and then tearing up as James Gunn helps this band of misfits finally find their place in the galaxy. What I love about this trilogy is that they're all so different and special in their own way where my favourite could change from day to day. What a way to both close out the best MCU trilogy and for James Gunn to say sign off.
Guardians of the Galaxy Vol. 3 review – A glorious farewell to this bunch of A-holes