Aftersun is written and directed by Charlotte Wells. The film stars Paul Mescal, Frankie Corio, and Celia Rowlson-Hall.
Aftersun tells the story of Sophie's recollection of a holiday in Turkey that she took with her single father 20 years ago when she was 11.
There are films that you know you are going to love or hate within the first couple of minutes, but some films take their time in releasing your admiration or hate. One scene, one misstep or one decision can completely swing the pendulum in a positive or negative direction. With Aftersun, you feel yourself falling deeper and deeper in love as every scene passes. By the end, I was a sobering mess who felt like he had just been hit by a cinematic sledgehammer. 
Even though Aftersun takes place predominately in Turkey, it feels like an extremely British film. Maybe this is from my own personal experiences being so represented in the story. The holiday resort which the father and daughter stayed at is very reminiscent of the hotels which I stayed at when on holiday with my family in my youth. The all-inclusive wristbands, the karaoke, the pool table, the underage drinking and the small contingent of non-English around the swimming pool just felt like it was pulled out my own memory bank. 
There used to be a stigma in filmmaking about working with children, but in recent years we have seen some simply magnificent acting from young performers. Last year it was the Sanz sisters in Petite Maman and Woody Norman in C'mon C'mon, and now it is Frankie Corio's time to shine. Her performance is exceptional and way beyond her years, and she holds her own with the marvellous Paul Mescal. The dynamic duo has brilliant on-screen chemistry. 
Both Sophie and Callum are relatable characters. It is so easy to feel the different emotions that they go through, Aftersun is clearly a personal piece of art from filmmaker Charlotte Wells, but it also feels very universal. How well does our own version of our parents match up with their true selves? This is a question which I hadn't asked myself before this film, but it is so clear that we only see a version of our parents, a version which is moulded into the care of their children. We see the parent, the mother or the father but never truly see the person.
I cannot hear Stuck in the Middle with You without thinking about Reservoir Dogs and cannot hear Best of my love without thinking of Boogie Nights, and now, anytime that I hear Under Pressure by Queen, I am going to be in a flood of tears, thinking about Aftersun. Talk about needle drop of the year! and allowing a film to come to a climax. Simply majestic decision-making from Wells. 
Well's brilliance is brought to the forefront many times during the film's 96-minute run time. A lingering shot of a polaroid developing, the implementation of old video camera footage and the repeat cutting back to a dance scene. It is only once the film has finished that you come to understand these moments and truly see the artistic vision. Once all these pieces of a puzzle go together, you realise you have just witnessed something genuinely great. 
Aftersun is the best directorial debut since Julia Ducournau's masterpiece Raw, and Charlotte Wells is now my favourite one film in the bank filmmaker.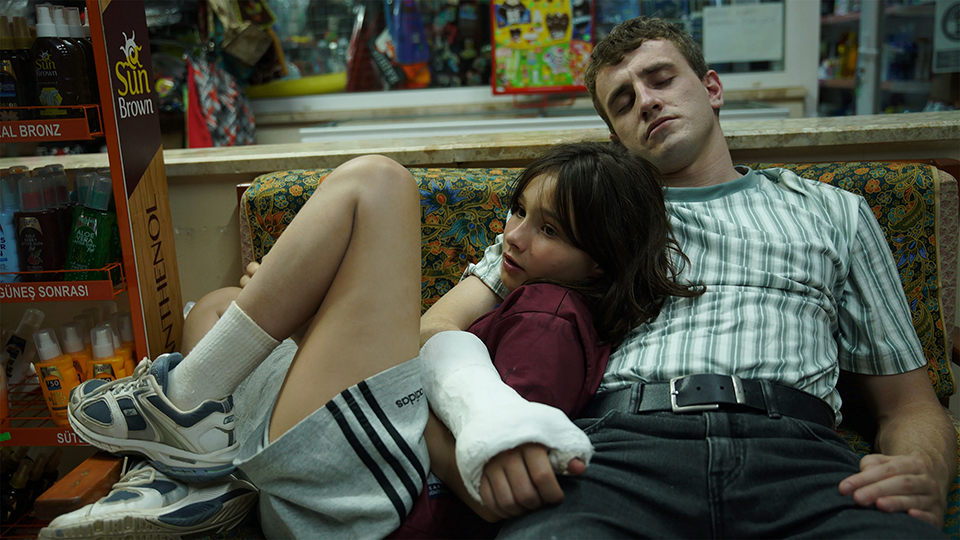 Aftersun review – A directorial debut for the ages